The forming of clay into bricks is a tradition going back into history for paving materials. We have Roman examples of clay brickwork in the UK, it is part of our tradition… However, clay is also in the same format used for making paving products. Naturally, it has to be the right clay, and produced in a more controlled way, to be durable in such situations. But with this in place, clay paving offers colour and texture opportunities other materials cannot rival. This continued expansion into more and more permutations is at the forefront of Chelmer Valley's continuous product development program.
THE DOUBTS OF CLAY PAVING EXPOSED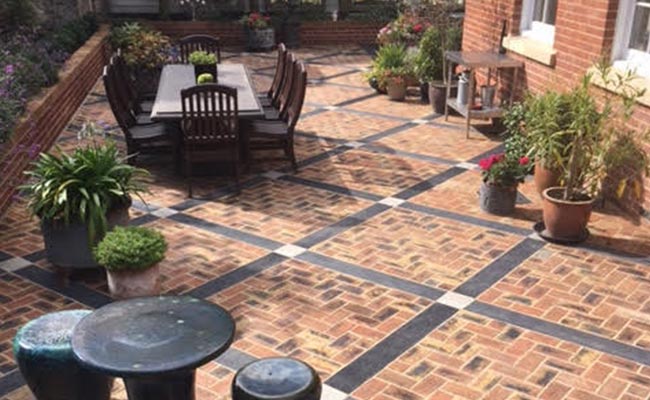 Clay paving remains the lesser known part of the landscaping material options designers look to, both domestically and commercially.
The first thought is cost, that it is prohibitive, even though many stone materials cost much more, and are harder to use… At first glance, clay paving appears expensive, but that is when compared to materials such as concrete, which does not keep it's appearance, or has the lifespan, of clay paving. And as a percentage of the cost in the project, remembering that sand, sub base, labour, all are equal, if clay paving is three times the cost of concrete paving, add in other construction costs, the add-on may then be just 10% on the contract cost, for a material that may last ten times as long. Divide that back as a cost over lifespan, and clay is cheaper, whilst looking many times better, giving added value to schemes in aesthetic terms.
Prior to Chelmer Valley entering the market, and turning clay paving on it's head, yes, options were limited. This cannot be said to be true now, as we have transformed this market through new styles and colours, a situation that has made the industry sit up and take notice.
THE SOLUTION AND THE BENEFITS OF CLAY PAVING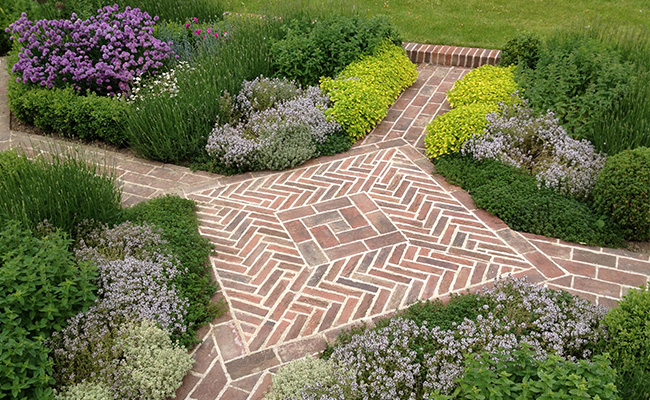 So clay paving offers now a wide pallet of options, durable, traditional, stylish, and thanks to a clear focus, through Chelmer Valley you have a totally new portfolio at your fingertips. Long lasting, colour fast, natural, and in many format options. Unlike the ultraviolet light fading with concrete, our clay paving remains unaffected by this process, as the colours are not pigment additions…
Clay paving also offers excellent non-slip properties, a big consideration in the UK climate. Either wet or dry, they perform better than stone and concrete, and the performance is governed by BSEN1344.
In design, clay paving can be used together will other materials, such as stone, to compliment and enhance landscape features, and with a multitude of bonding patterns available, and the ability to use both in flexible and rigid laying, the flexibility of clay pavers as a material in landscaping provides far more options to designers to explore.
In flexible construction, there is no 'going off / setting time, the paved area is ready for immediate use. No sealer is required, and in summer or winter, there are no delays. Simple, and efficient.
MYTHS REMOVED, IT'S TIME TO DESIGN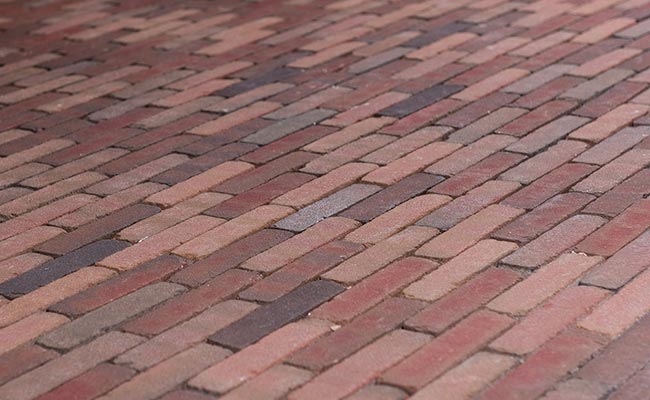 So clay paving is a good investment. It's economically prudent, aesthetically pleasing, long lasting, and natural. Though Chelmer Valley it is made in many formats, a vast colour pallet, available quickly and offers add-on value to projects.
Contact the specialists, Chelmer Valley, on 01277 219634, view the ranges of clay pavers or get in touch at info@chelmervalley.co.uk and see how your concepts can be helped into reality with the help of our friendly helpful team.
---